On June 16, 2021, the online event to select startups to participate in the SIHUB-EXPARA Startup Accelerator Program Course 3 took place at Saigon Innovation Hub.
The program is the result of cooperation between the Innovation and Entrepreneurship Support Initiative of the Department of Science and Technology of Ho Chi Minh City and EXPARA, a company specializing in investing and providing startup accelerators, training and consulting for startups. first in Southeast Asia.
Launched from March 25, 2021, despite facing some difficulties due to the general impact of the Covid-19 pandemic, the 3rd SIHUB-EXPARA Program has attracted 120 applications from 12 countries in Asia, Europe, North America and Australia.
These startups operate in 20 different fields with technology solutions such as IoT technologies for the home; recycling waste processing; multi-platform livestream; finance for low-income workers; kit for rapid diagnosis and identification of microorganisms in agriculture, aquaculture, animal husbandry; cancer drugs…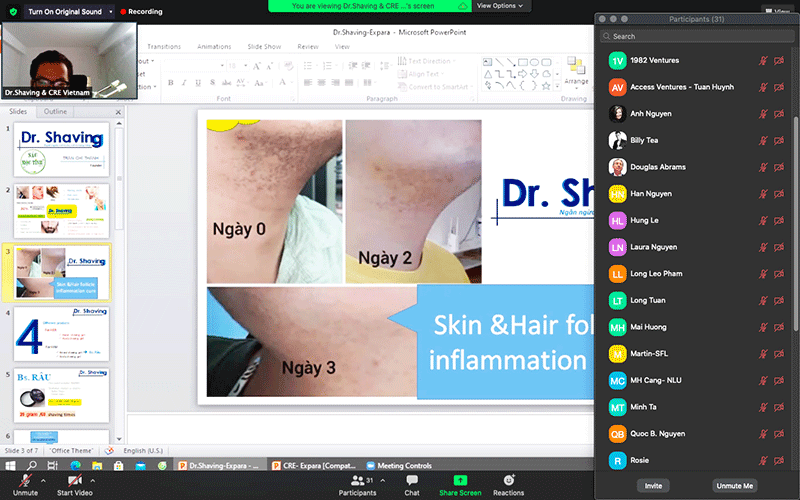 Dr.Shaving project presented by M.Sc.Tran Chi Thanh online to the jury and investors. Photo: Sihub
At the event, 40 startups (of which, Vietnam has 32 projects) passed the appraisal round based on a set of evaluation criteria (founding team, market opportunities, business models, innovation factors, etc.). creation, product) presented online in front of the Jury, along with more than 30 domestic and foreign investors. The 20 most potential startups will be selected to participate in 14 weeks of acceleration to grow up with an Advisory Board of 18 leading international experts in the field of entrepreneurship and innovation. Besides, they also have the opportunity to raise capital from deep access to the network of angel investors, multinational companies, incubators and other accelerators. The remaining 20 startups, not selected by the Program, will receive a grant of $ 5,000 from Amazon – AWS.
SIHUB-EXPARA has undergone 2 courses, attracting 146 startups from more than 10 countries around the world to register to participate, of which 36 startups graduated and raised more than 10 million USD in investment capital.
Dr.Shaving stopped in round 40, Dr.sCREen went on to round 20.